Soy Chicken Masala
by Achyut U. Sompura
(Nevis, Caribbean )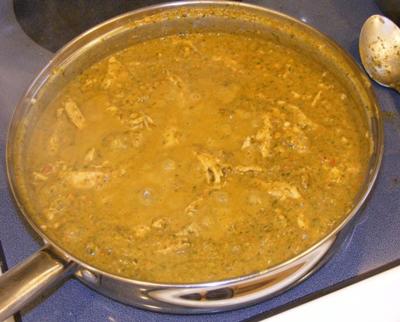 This easy substitute chicken recipe is perfect for vegetarians and will leave you craving for it every week! The nutty creamy texture of peanut butter and the tangy sweetness of yogurt combines with exotic curry flavors satisfying anyone's sophisticated palette. Serve it at your next dinner party and be prepared for the compliments!

Ingredients

1 packet of air tight soy chicken-less strips (I use Trader Joe's chicken-less strips)
1 cup of finely chopped cilantro
1 teaspoon of garlic
3 small Campari tomatoes (or 2 medium sized thin skinned Roma tomatoes)
1 large onion
1 large Serrano pepper or 1 medium jalapeño pepper
1 cup of vegetable broth
2 tablespoons peanut butter
2 tablespoons of plain yogurt
1/2 teaspoon of crushed fennel seeds
1/8 cup of canola oil or 4 tablespoons of olive oil
1 tablespoon of seasoning salt
3 teaspoons of curry powder OR

1/3 teaspoon of tumeric powder &
1 teaspoon of dhana jiru &
2/3 teaspoon of red masala powder

Steep the onion and tomatoes in boiling vegetable broth until onions are soft or tomatoes burst. Let cool. Blend garlic, grated pepper, cilantro, steeped onion, tomatoes with broth. Note: Cover blender with a towel if broth is still warm. Blend to a leveled consistency.

In a sauté pan, heat oil. Grill precooked packet of soy chicken until the strips start browning. Pour in blended mixture. Add seasoning salt and other masalas. Bring to a low boil. Add peanut butter and yogurt. Fold in until smooth.

Serve on plain or lemon-peppered Basmati rice with a side of roasted potatoes. Enjoy! A great compliment to this recipe is mango lassi.