Moong Dal Halwa
by Neha Wadhwa
(Jhansi, Uttar Pradesh, India)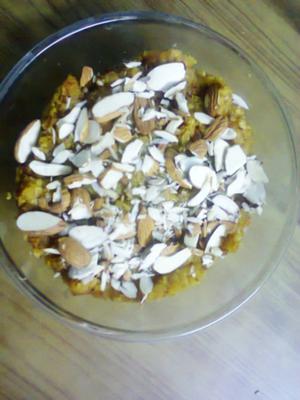 Indian Food
Moong Dal Halwa


Moong Dal Halwa is a classic recipe that is relished throughout Rajasthan. It is a popular Indian sweet often served in parties. It is super tasty and is often prepared during the winter months, as it is supposed to keep the body warm. Made with Mung beans, ghee and dry fruits, this dessert is very common in the States of Uttar Pradesh and Rajasthan.
It is considered to be auspicious for Holi and Diwali and on weddings occassions. It takes a long time and lots of patience to prepare this halwa and requires a little extra ghee too. The more we sauté moong dal, the more delicious will be the Halwa. You can make a larger quantity of this recipe and store it refrigerated for several weeks. Just add a little milk to the halwa before reheating it. This rich moong dal preparation is garnished with raisins and chopped nuts.
Ingredients
 1 cup Moong Dal (250 gm)
 1 cup Ghee (200 gm)
 1 cup sugar ( 200 gm)
 2 cups water ( 400 ml)
 6 pod green cardamom split
 1 cup khoya (250 gm)
 1/4 cup finely chopped almond (12 almonds)
Preparation time: 10 minutes
Cooking time: 30 minutes
METHOD
1) Wash thoroughly and soak the moong dal in plenty of water overnight.
2) The next morning grind to smooth paste in a food processor. Donot
add water while grinding.
3) Prepare a sugar syrup, add split cardamoms and keep it aside.
4) Add khoya to a nonstick pan. Stir it till it become golden brown.
Keep it aside.
5) Heat ghee/ butter in a pan on a flame till warm. Add moong dal paste
to ghee. Stir to mix and cook moong dal till it turns golden and releasing
its aroma.
6) Add khoya and mix it well. Cook for another 2 minutes.
7) Now add sugar syrup and mix well.Cook on medium flame for 5 minutes.
8) Add the chopped almonds and cook for another 2 mins.Turn off the
fire.
9) Garnish some almonds for decoration.
Thank You God for this food which is set before us…..
Happy Eating with friends and family….:D :D